From "my weekly ad" at CVS.com.
CVS has Cocoa Puffs on sale for $1.99 this week. There is a new printable coupon for $.75/1 box and SavingStar is offering $.75 back on one box.
So click to add the SavingStar coupon to your account, print this coupon, pick up a box, pay $1.24 and receive $.75 back in your SavingStar account. Your net cost will be just 49 cents for a box. [Be sure to attach your CVS Extra Care Card to your SavingStar account.]
Printable Coupon:
SavingStar Coupon: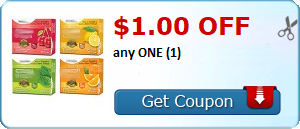 More SavingStar Deals:
SavingStar the smart and simple way to save on your groceries and online shopping.
If you haven't signed up for SavingStar do it today and attach your CVS card to your account, then choose the coupons to attach to your card. You can see all the details in this earlier post:
New Savings Opportunity for CVS Shoppers: Saving Star Coupons
.
Disclosure: Links in this post may be Simply CVS affiliate partners or personal referral links.