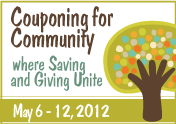 Couponing for Community is gearing up for its third year.

The week of May 6 couponers across the country will join together to give to their friends, families and communities in need. In the first year, 2010,
over
3,000 items were donated by couponers nation-wide and in 2011 over 26,000 items were donated.
Couponing for Community (C4C) was started on the Ch-ching on a Shoestring blog written by Kaley. By 2011, 127 other bloggers joined her in promoting the week. This year she is gearing up for a bigger than ever week of giving back. From her website:
"Couponing for Community is back!!
What started out as a crazy idea of mine a couple of years ago has now turned into one of my favorite events of the year. And this year is going to be even BIGGER than ever.
So what is Couponing for Community anyway?
Couponing for Community is an effort by couponers all over America to use the power of couponing to make a united impact. We invite you to … use your couponing skills to give to a homeless shelter, food pantry, or a
friend in need during the week of

May 6-12, 2012

! May 12 is also

National Stamp Out Hunger day

, so giving is as easy as leaving a bag of non-perishable items by your mailbox.

In 2012, our goal is to join together to give 30,000 items in one week's time

.
We simply invite you to track your giving during the week of May 6-12. We'll even have a giving tracker to tally up everyone's efforts!!
First, head on over and

Like Couponing for Community on Facebook

! That will help keep you up to date on the details of the upcoming event and give you a place to connect with all of the other participating!
Second, as you shop over the next few weeks, begin to set aside items that you can donate during the week of May 6-12. Note: Since we want to keep a tally of items given that week, make sure to keep track of the number of items that you give away. You can even take a picture to upload on the Facebook page.
If you have a blog and would like to participate, simply write up a post about Couponing for Community and then submit the direct link to your post on the

'Join Us' tab

.
Maybe you'd even like to hold a local donation drive? Feel free to

contact me

if you'd like some tips on how to get started."
I know many of you already donate to many causes with some of the goodies you get at CVS and I thought you might enjoy a collective effort with other couponers. Since I have not been shopping the past 8 weeks because of preparing for and then moving I am afraid I will not have much to offer this year, but I still have a couple of weeks to collect some items. Have you participated in Couponing for Community in the past two years?